Do you believe in life after love?
March 17, 2018 - April 17, 2018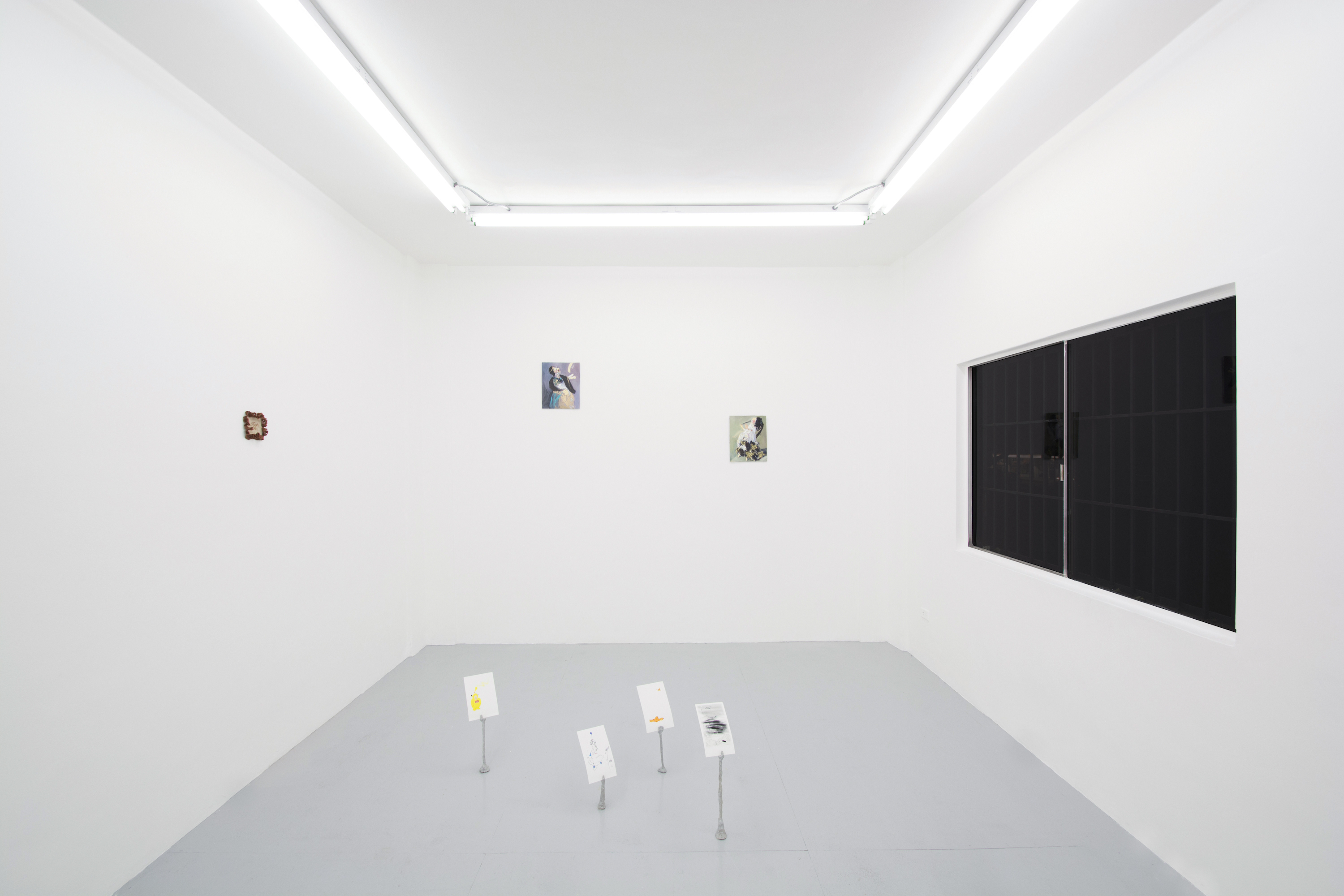 English
Works by Alida Cervantes, Marisa Raygoz, Alan Sierra, Maximiliano León, Lucía Vidales, Israel Urmeer


Tijuana, B.C., Mexico
March 17, 2018

To Deslave,


We are here, one year since we started. We have survived the malandros from la Zona Norte, the voracious dollar and our damp walls that fight against the whitest white.


We started with enthusiasm, we did it thinking about your programming like that of a television series. Each month an exhibition, each show a chapter, and every year a season. We even gave you a terminal date, because we do not want to drag you beyond your time just to become The Walking Dead when we can end this like Breaking Bad.

It has been emotionally exhausting, physically punishing and monetarily a disaster; if it wasn't because behind us there's a great group of people you would have stayed in the pure pilot episode, no joke. At the beginning we thought you would be like having a child, but we have realized that it is also like having a partner, a brother and a father, all at the same time. This had become a symbolically incestuous threesome.
On February 14th while we were listening to Cher on Spotify, it popped to our Facebook an article from Buzzfeed. There we read how the supposedly first phase of love (or limerence) lasts about one year in a relationship. So, because we were in the 11th month of the relationship with you, obviously in our head began to rumble a question accompanied from a 90's beat background.


That is why ―after several chingadazos and so much insecurity― we'd like to answer that question to you with a gift in the form of an exhibition. We wanted to make you happy, to us, to the artists and to the pieces themselves, and therefore our selection was based on the most honest smile that such works could bring to us.

There's the works of Alida, Maximiliano and Lucía, who approached the representation of Christian saints, colonial royalty and exotic beings found by medieval explorers through oil paintings. Then the works of Alan, Marisa and Israel, whom through their sculptures made a joke on the conception of what is considered a "fine art". It is in the formal strategy chosen by these works ―their punctual informality and crude gestures― that we find the lightness in which we wanted to approach. We needed to breathe, all together, and that this new beginning felt like a break.

Now, with the lungs full of air and a firm decision to go forward extending through each limb of our bodies, we want to ask you, do you also believe in life after love?
- Mauricio Muñoz and Andrew Roberts,
your parents, boyfriends, children and siblings.
Español

Obras de Alida Cervantes, Marisa Raygoza, Alan Sierra, Maximiliano León, Lucía Vidales, Israel Urmeer


Tijuana, B.C., México
17 de Marzo de 2018

A Deslave,
Nos encontramos aquí, a un año de iniciar. Hemos sobrevivido a los ladronzuelos de la Zona Norte, al voraz dólar y a nuestras húmedas paredes que luchan contra el blanco más blanco.
Comenzamos con entusiasmo, lo hicimos pensando en tu programación como la de una serie televisiva. Cada mes una exhibición, cada muestra un capítulo, y cada año una temporada. Incluso te pusimos una fecha terminal, pues no quisiéramos arrastrarte más allá de tu tiempo para convertirnos en The Walking Dead cuando podemos cerrar como Breaking Bad.
Ha sido emocionalmente exhaustivo, físicamente agotador y monetariamente un desastre; si no fuera por tanta terquedad y porque detrás de ambos se encuentra un gran grupo de personas te hubieras quedado en el puro piloto. Al inicio creímos que serías como tener un hijo, pero nos dimos cuenta que es también como tener una pareja, un hermano y un padre, todo al mismo tiempo. Esto se había convertido en un trío simbólicamente incestuoso.
El 14 de febrero mientras escuchábamos a Cher por Spotify, en nuestro timeline de Facebook brincó un artículo de Buzzfeed. Ahí leímos que la fase de enamoramiento en una relación dura un año, y pues al nosotros llevar once meses contigo, obvi en nuestra cabeza comenzó a retumbar una pregunta con beat noventero de fondo.
Es por ello —tras varios chingadazos y tanta inseguridad— que queremos contestar a esa pregunta con este regalo que te hacemos en la forma de una exhibición. Queríamos hacerte feliz, a nosotros, a los artistas y a las piezas misma, y por lo tanto nuestra selección se basó en la sonrisa más honesta que tales obras despertaran en nosotros.
Están las pinturas de Alida, Maximiliano y Lucía que abordaron en ellas la representación de santas cristianas, la realeza colonial y seres exóticos encontrados por exploradores medievales. La obra de Alan, Marisa e Israel, con una burla en su materialidad y representación hacia la concepción de lo considerado como un arte fino. Es en la estrategia formal elegida por estas obras —su informalidad y gestos crudos— que encontramos la ligereza con la cual nos quisimos aproximar. Queríamos respirar, todos juntos, y que este nuevo inicio se sintiera como un descanso.
Ahora, con los pulmones llenos de aire y la decisión firme extendiéndose por cada extremidad de nuestros cuerpos, antes de comenzar nuestra segunda temporada, te queremos preguntar: ¿tú también crees en la vida después del amor?
- Mauricio Muñoz y Andrew Roberts, tus padres, novios, hijos y hermanos.